171 posters for 171 stations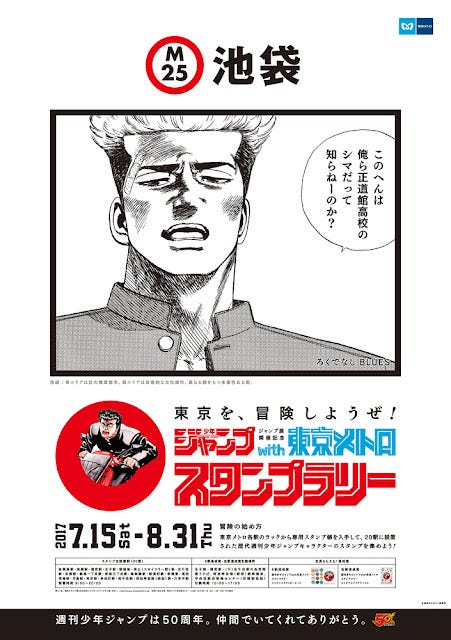 Rokudenashi Blues poster in Ikebukuro Station (Tokyo Metro Marunouchi Line)
If you are in Tokyo NOW you may want to go on a manga poster treasure hunt of sorts.
World-famous Shonen Jump magazine turns 50 this year, and they have decided to celebrate by creating 171 different posters featuring some of their more popular manga stories - one for each of the 171 stations of the huge Tokyo subway system.
Here are some of Tokyo's main stations.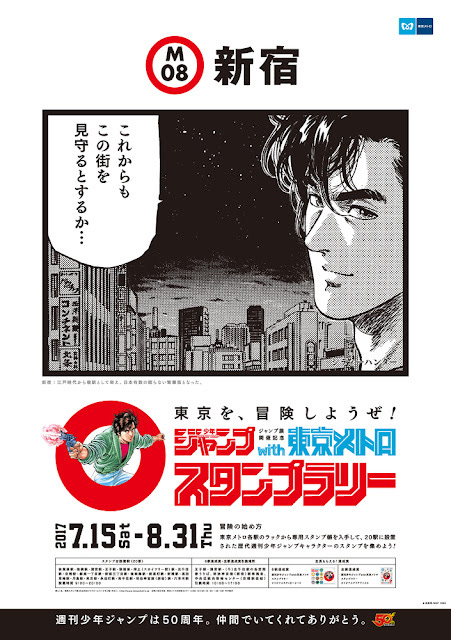 City Hunter poster in Shinjuku Station (Tokyo Metro Marunouchi Line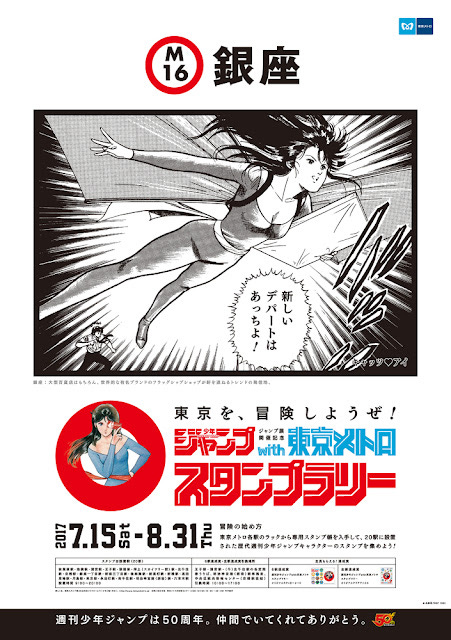 Cat's Eye poster in Ginza Station (Tokyo Metro Marunouchi Line)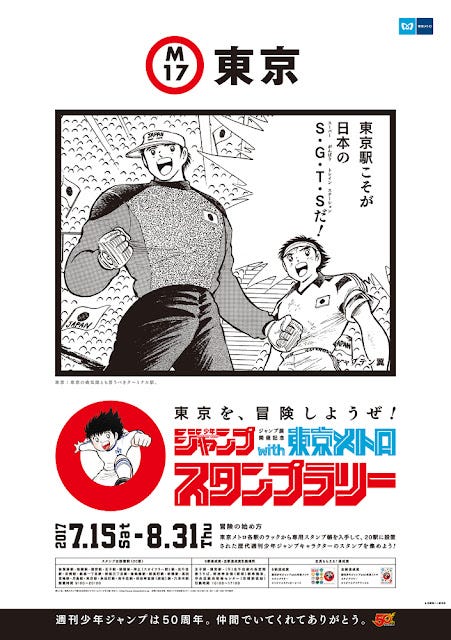 Captain Tsubasa paster in Tokyo Station (Tokyo Metro Marunouchi Line)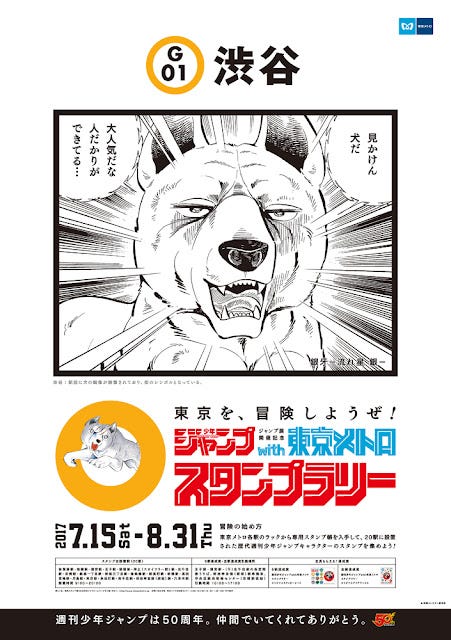 Ginga Nagareboshi Gin poster in Shibuya Station (Tokyo Metro Ginza Line)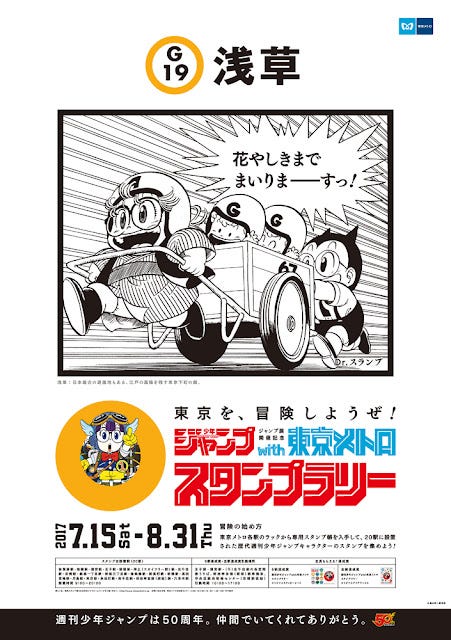 Dr. Slump poster in Asakusa Station (Tokyo Metro Ginza Line)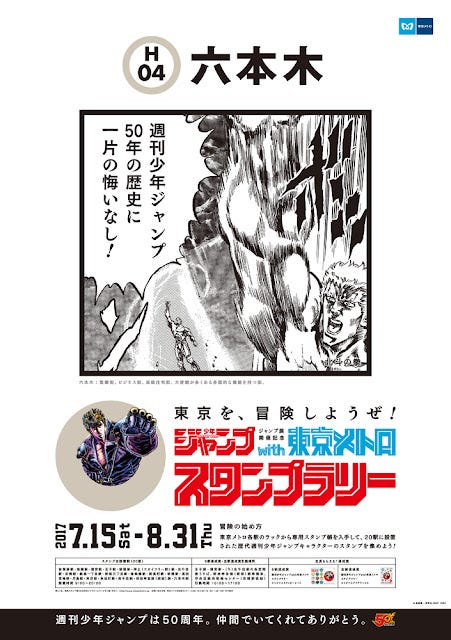 Fist of the North Star poster in Roppongi Station (Tokyo Metro Hibiya Line)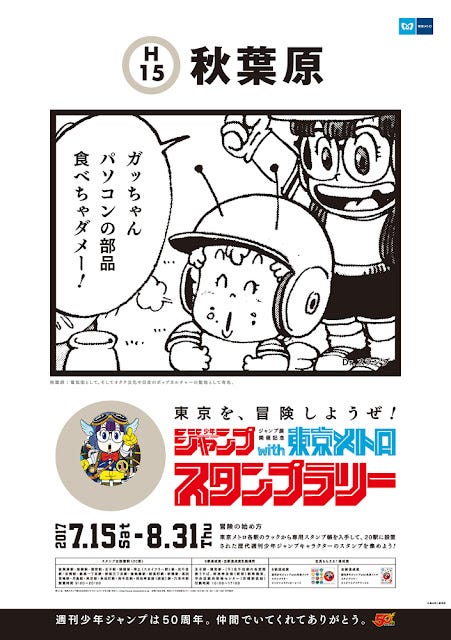 Dr. Slump poster in Akihabara Station (Tokyo Metro Hibiya Line)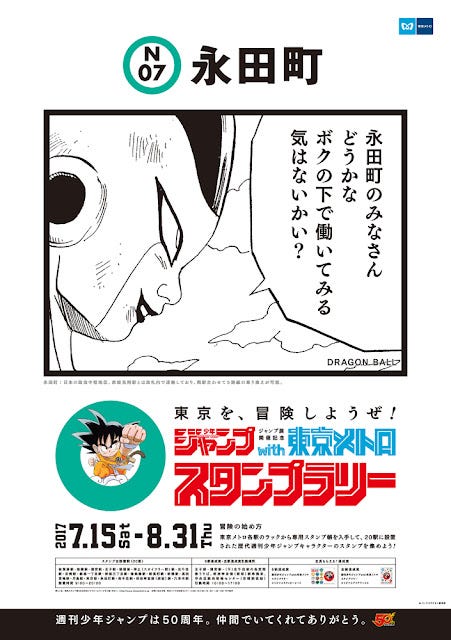 Dragon Ball poster in Nagatacho Station (Tokyo Metro Nanboku Line)



The posters will be on display until August 31. But if you are not in Tokyo or you are too lazy to brave the muggy weather, do not despair: You can actually see all the 171 poster here http://www.huffingtonpost.jp/2017/07/20/story_n_17548064.htmlTherse are the posters on the Nanboku Line. Click on こちら when you reach the end, and you can jump to different subway lines.  
For more information on manga, anime, and how to get around in Tokyo, don't forget to check out my brand-new otaku guide to Tokyo! https://www.amazon.com/Tokyo-Geeks-Guide-Cosplay-Ultimate/dp/4805313854/ref=sr_1_1?ie=UTF8&qid=1493858420&sr=8-1&keywords=tokyo+geeks+guide