How to reach Tokyo from Narita Airport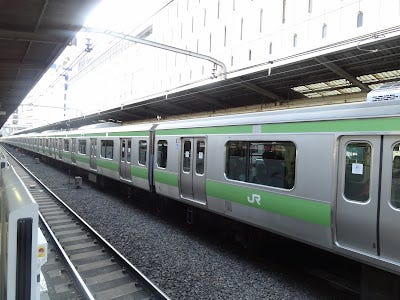 Okay, after a few (or many) hours flying over continents and the seven seas you have finally touched down safely at Narita Airport - which, by the way, is located not in Tokyo but in Chiba's deep countryside.
Now what?
You are, after all, still 60 kilometers away from Japan's capital.
Lucky for us, our friends at Tokyo Cheapo want all visitors to reach Tokyo safely, quickly, and possibily cheaply. So read on about the many options for travelling those last 60 kilometers.



For newcomers to Tokyo it can come as quite a icarprise that Tokyo's main international gateway—Narita Airport—is not really very close to Tokyo at all.  In fact it's so rural and remote that the view on the first part of the train journey is predominantly of rice paddies—oh, and a faux-Dutch windmill.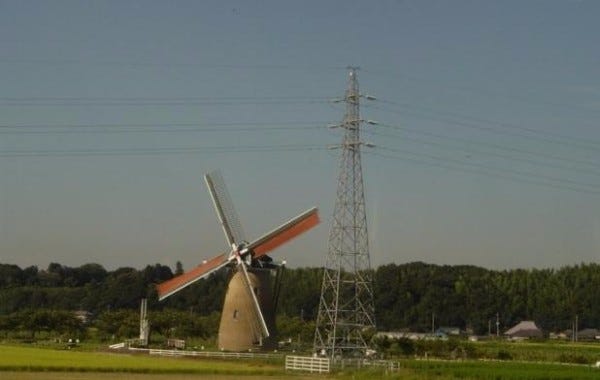 Photo by wendy huff used under CC

While finding the cheapest transport to get from Narita to Tokyo is a worthy quest in itself, it has become more important because of the arrival of low-cost carriers like Jetstar Japan—which use Narita as their base of operations for domestic flights out of Tokyo.  Some of the fares are cheap enough to make tourists coming to Japan consider whether they should get the JR Pass or just book a couple of flights on an LCC. However, since Narita Airport is not right in the middle of Tokyo (like the much more conveniently located Haneda Airport) transport fees to and from Tokyo should be factored into your overall costs.
Bus From Narita to Tokyo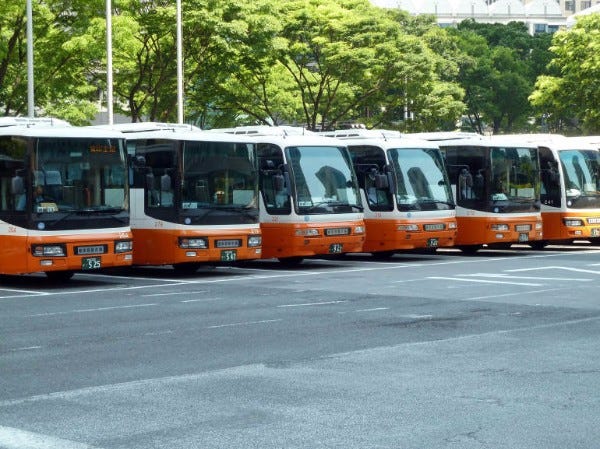 Limousine Bus lineup | Photo by Rob Young used under CC

Limousine Bus  – Although the convenience of not having to cart your luggage around is great, theLimousine Bus service (the buses are in fact the least limousine-like wheeled transport you are likely to take) to major hotels all over Tokyo at 3,100 yen each way (and 4,500 yen for a return ticket) is definitely not the cheapest option.
Tokyo Shuttle – Considerably cheaper, is the Tokyo Shuttle.  The bus costs only 900 yen with a reservation (and 1,000 yen cash without a reservation) and runs to the Yaesu Exit of Tokyo Station from where you can easily jump on the subway or various JR Lines.  The service does have a few small conditions—you can catch it at any time of day without a booking from Narita Airport (buses leave every 20 mins!) for the advertised 900 yen.  However, when returning to Narita Airport from Tokyo, without a reservation, it will cost you 2,000 yen for early morning and late night buses. Early morning buses are any that depart before 6 am.  Note that unlike Limousine Buses, the first Tokyo Shuttle leaves Tokyo Station at 1:30 am—which means you can catch those ridiculously early flights out of Narita. As an added bonus, you can pick up a 1-day Tokyo Metro pass for 600 yen—a 110 yen saving on the regular price. You still have to take about four regular trips on the subway to make it worthwhile which could be quite ambitious after a long-haul flight!The Access Narita – Another cheap bus option from Narita Airport is The Access Narita, which will drop you off at either Tokyo Station for quick access to JR Lines or Ginza Station so you can jump on the subway. The one-way journey is only 1,000 yen for adults and 500 yen for kids. The Access Narita claims to be easier to use than the Tokyo Shuttle because you only have to line up at their bus stop rather than buy paper tickets at a counter.  Its buses do look rather nice and they also have toilets, which might come in handy after a long flight.
Regular Train
The cheapest regular trains that run the route from central Tokyo to Narita Airport run on the Keisei Line.  The good thing about the Keisei Line is that it connects with the Toei Asakusa Subway Line and the Yamanote Line so it can be accessed from a lot of different stations in central Tokyo.  The bad news is that it's a regular train—so catching it with your suitcase during rush hour can be hazardous to your health!
To help you on your first visit, here's photo guidance of catching the cheap train from Narita to Tokyo:
Cheapest Train From Narita Airport to Tokyo – Keisei Limited Express
Here's a summary of the route and cost to get from Narita Airport to some main stops in central Tokyo:
Destination          Start (from Narita Airport)Change at                Next TrainTotal Cost1. IkebukuroKeisei Narita Limited ExpressNippori StationJR Yamanote – forShinjuku/Shibuya1,200 yen2. ShinjukuKeisei Narita Limited ExpressNippori StationJR Yamanote – for Shinjuku/Shibuya1,230 yen3. ShibuyaKeisei Narita Limited ExpressNippori StationJR Yamanote – for Shinjuku/Shibuya1,230 yen3. TokyoKeisei Narita Limited ExpressNippori StationJR Yamanote – for Tokyo1,190 yen2. AsakusaKeisei Narita Limited ExpressUeno StationTokyo Metro Ginza Line – for Asakusa1,200 yen
First find the Keisei Line at Narita Airport and get on
Once you arrive at Narita, follow the signs for "Railways" taking the escalator down to the lower level. Once there, look for the nice blue Keisei Line: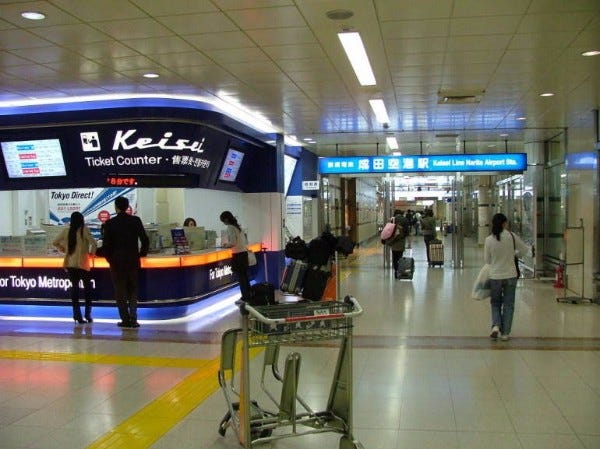 Ask for a ticket to your destination but not on the Skyliner, or if you're planning on having a few days in Tokyo, ask for a Pasmo card—this is a top-up card usable on all trains, buses, etc. in the Tokyo area. You can also get a Suica card, from the JR station ticket office opposite—it doesn't matter which one you buy, they both work on all trains and cost the same (500 yen for the card + the amount you wish to charge it with).
Next go through the (two) ticket barriers and down the stairs to the Keisei platform. N.B. NOT the Skyliner platform.
1) Trains From Narita to Ikebukuro, Shinjuku, Shibuya or Tokyo
For transfers on to the JR Yamanote Line, get off at Nippori. Look out for the notice on the train: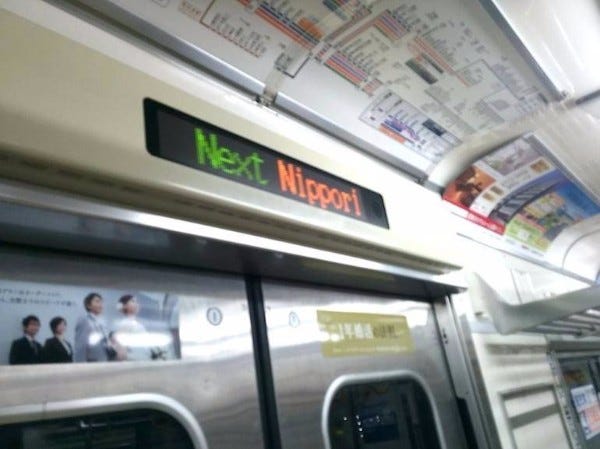 This is what the Nippori Station Platform looks like: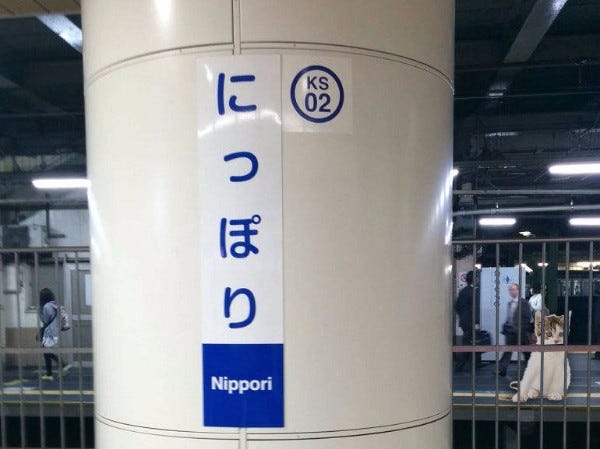 Head up the escalator, following the JR signs: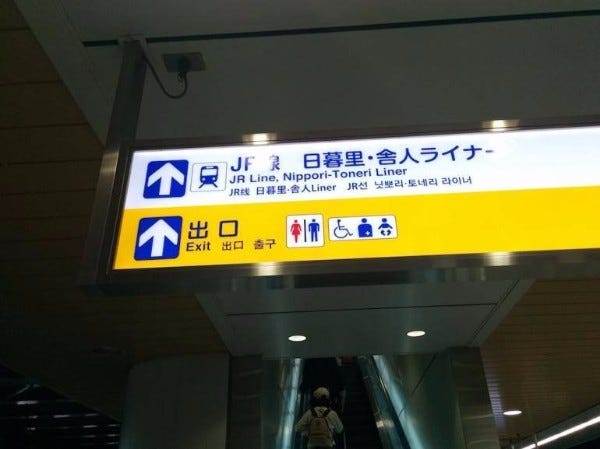 Go through the JR transfer gate—it's marked as "This is not an exit":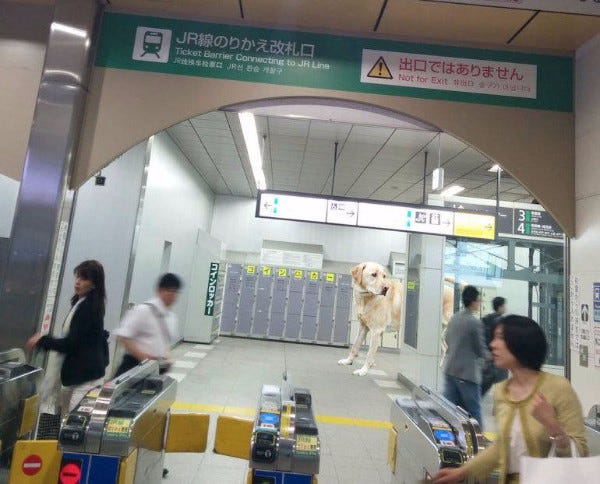 Head to the JR Yamanote line – platforms 10 (to Tokyo) and 11 (to Shinjuku/Shibuya)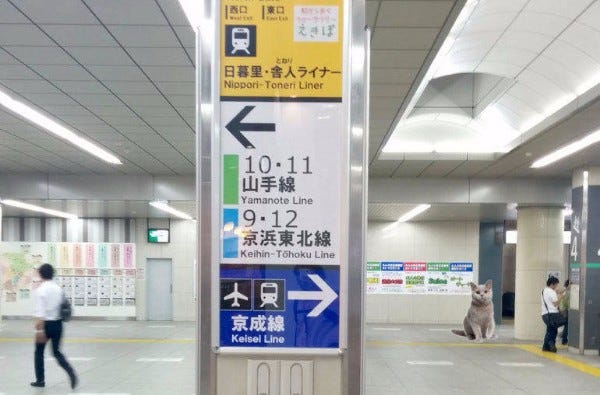 Platform 10 for Tokyo: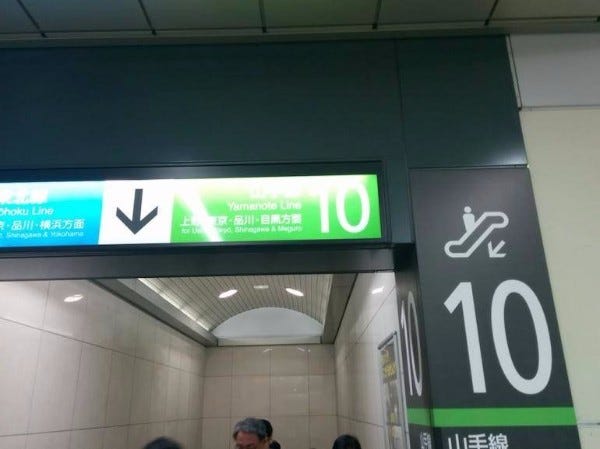 Platform 11 for Ikebukuro, Shinjuku, Shibuya: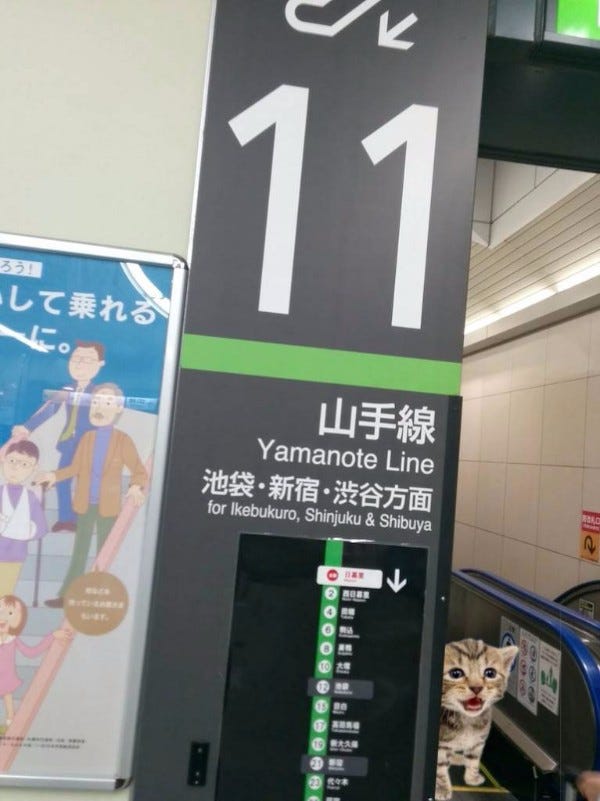 And get on the train! (Every train leaving from the platform is going in the same direction.)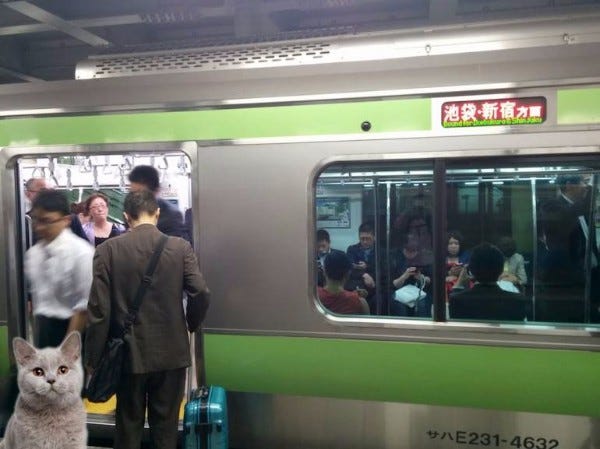 2) Trains From Narita To Asakusa
For this route, stay on the Keisei train until it reaches Ueno (usually the last stop). When you leave the ticket gate, head left, and down stairs following the signs for Tokyo Metro Ginza Line (this line is orange).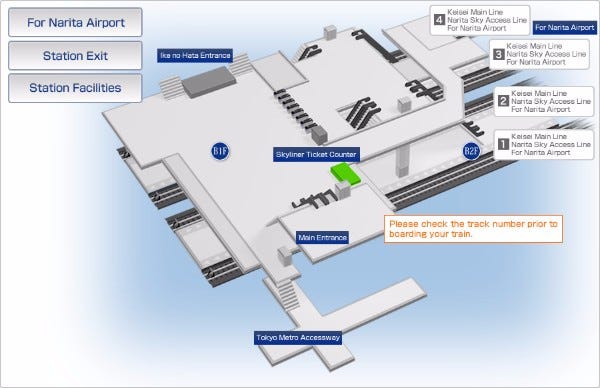 You'll then head through an underground walkway till you reach the Tokyo Metro Ginza Line.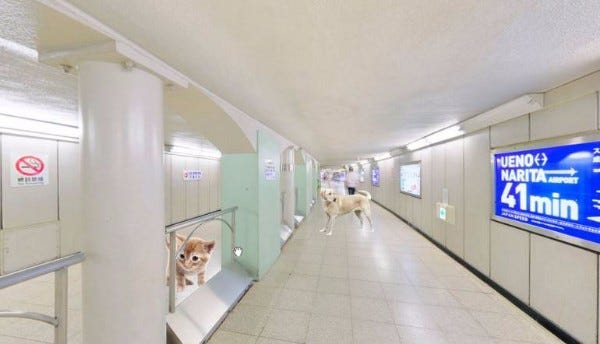 And here's a nice picture of the Ginza Line platform—make sure you're on the platform headed to Asakusa: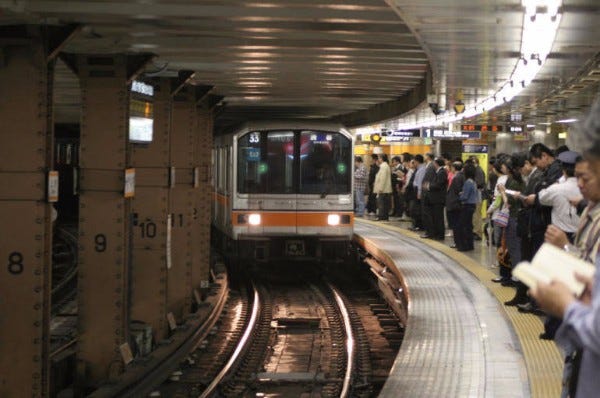 Photo credit chezjulia
 

Sky Access Express and Skyliner
Slightly more expensive than the regular Keisei train is the "Sky Access Express" (not to be confused with the Skyliner) which actually offers better access to central Tokyo than the Skyliner because it dives into the Toei Asakusa Subway Line instead of arriving at the relatively inconvenient Nishi Nippori orUeno stations. You'll pay an extra 180 yen over the regular train so the trip from Narita to Shinbashi will cost you 1,280 yen and take 1 hour and 2 minutes. The Skyliner offers the speediest travel time—just 36 minutes to Nippori or 41 to Ueno—but it will cost you 2,470 yen each way (or 2,200 yen if you purchase a ticket online before coming to Japan). This is the same company that runs the Tokyo Shuttle—so they also offer some discount tickets for the subway.
Narita Express and the N'EX TOKYO Round Trip Ticket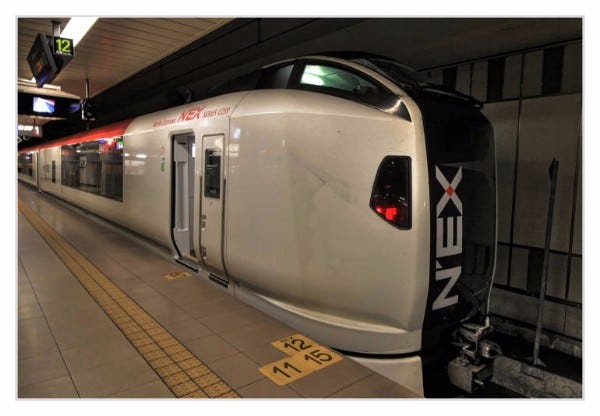 Photo by Daniel Mennerich used under CC
 
Introduced in March 2015, N'EX Tokyo Round Trip Ticket provides round-trip travel from Narita to Tokyo city and back for 4,000 yen for adults and 2,000 yen for children.  The ticket will get you as far as Kurihama in Kanagawa Prefecture and Omiya in Saitama, which is extraordinarily good value.  The ticket is only available at Narita Airport to foreign passport holders (you don't need a tourist visa) and has a validity period of 14 days.Even if you can't take advantage of some special ticket or pass, the Narita Express is still the most trouble-free way of getting to the main JR stations in Tokyo as you don't have to fight for a seat, there's space for luggage and there's no need to change trains. The regular price isn't cheap though as it costs 3,190 yen each way. You can buy tickets at the JR station at Narita Airport. Also if you plan on traveling beyond Tokyo the same day, then you can use a JR pass (see below).
JR Pass
Given that it doesn't cost that much to get into Tokyo, you should think very carefully before you activate your JR Pass especially if you plan to spend the first few days of your trip in Tokyo.  If you're spending a few days in Tokyo first, you might want to choose another option to get into Tokyo and then activate the pass when you embark on a longer inter-city trip.
 
---
If you haven't reserved your Japan Rail Pass yet, you can reserve your pass online. Not sure if you need one? Check our article on which JR pass to choose.
---
For the Stupidly Rich
Catch a taxi for 20,000 to 25,000 yen or charter a helicopter for 270,000 yen.
For more helpful info on getting around once you've made it into the city, as well as other essential Tokyo basics, check out our ebook guide.