The joy of collecting retro games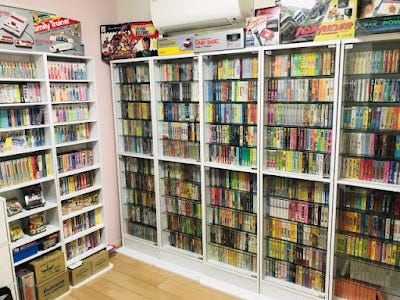 Japan, and Tokyo in particular, are veritable meccas for retro game lovers. 
One of these dedicated game collectors has managed to buy every single cartridge that was commercially released for the Nintendo Famicom, known abroad as the NES (Nintendo Entertainment System). 
As reported in SoraNews24, Japanese Twitter user @corner_mask says it took him close to 10 years to put together the complete set, which amounts to a whopping 1,053 games. Making the whole thing more impressive is that every single one of those games also has its original box and instruction manual. That's no small feat, considering that the Famicom catalog goes back all the way to 1983, meaning that a lot of those paper artifacts were destroyed during the period when most gamers were fairly young kids who didn't always handle their toys very delicately.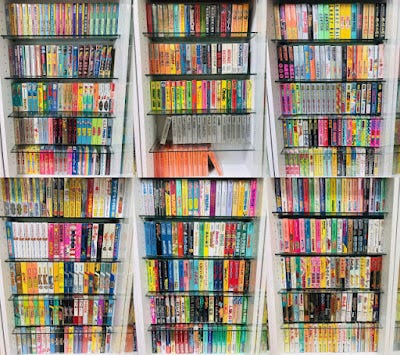 Taking a look at the shelves, you can see there was a surprising amount of variety in package dimensions for Famicom games, some of which came in fairly form-fitting boxes while others are thicker, almost looking like stout reference books. You'll also spot a number of peripherals such as the Family Trainer running pad, Robot/R.O.B., Famicom karaoke add-on, and Exciting Boxing, a game from Konami with an inflatable punching dummy that you wail on while playing.
@corner_mask says that the most he paid for any of those games is about 200,000 yen (US$1,820) for Battle Rush: Build Up Robot Tournament, a title that works with Bandai's Datach peripheral, and that the total cost of all his Famicom games came out to roughly three million yen (US$27,270).
So what's next for @corner_mask? He says he plans to track down copies of the ginbako (silver box) Famicom games, i.e. titles that were re-released in silver boxes. He also wants to put together a complete set of Famicom Disk System games. 
******************************************************************************************** 
In other news, Sega has been sued for rigging a crane game, and anime director Hosoda Mamoru does not like the way women are portrayed by Japanese animators.  
******************************************************************************************
Wait, there's more!
Check out my second otaku guide and, if you are interested in non-otaku stories about Japan, my brand-new Substack newsletter, Tokyo Calling.