Two books about Honda Ishiro

Great news for fans of Godzilla and director Honda Ishiro: a brand new book about the late director's life and films has just been published: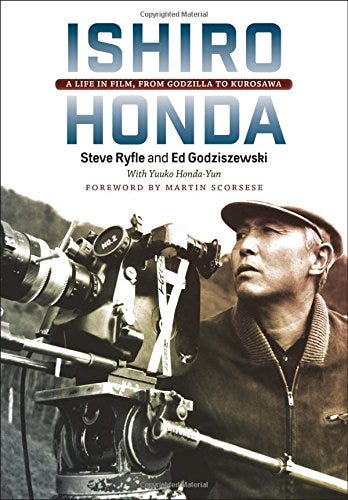 Featuring a foreward by Martin Scorsese, the book has been hailed as the definitive work on Honda.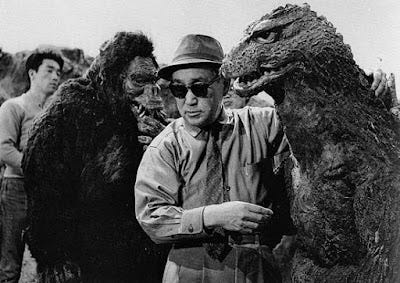 I wanted to write about the book myself, then I found this excellent review by my good friend and Japanese film expert Mark Schilling, so please check his piece instead:
https://www.japantimes.co.jp/culture/2017/11/18/books/ishihiro-honda-master-behind-godzilla/#.WhgcrNIUlMs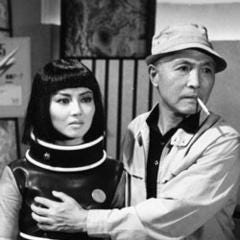 While Schilling says this is the first English-language book on Honda, another book came out in 2009: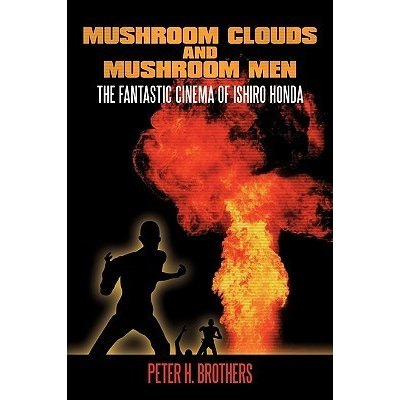 Here's the review I wrote back when the book came out:
Mushroom Clouds and Mushroom Men: The Fantastic Cinema of Ishiro Honda
By Peter H. Brothers
AuthorHouse
2009, 282 pp, $14.95
Until not so many years ago, well before the rise of Hideo Nakata, Takashi Shimizu and J-Horror, Japanese genre cinema was almost exclusively known abroad for monsters movies. You had Mothra, Ghidorah, Gamera, and then the king of them all: the mighty Godzilla. The original Gojirawas directed in 1954 by Ishiro Honda. It proved so popular that it was followed by 27 more films featuring our favorite radioactive lizard, and is still considered one of the most influential franchises in the history of monster movies. Honda himself went on working on many other such films and became one of the most prolific fantasy film directors.
Author Peter H. Brothers saw the original Godzillawhen he still was a child and instantly became a hardcore Honda fan, so much so that he later became one of the original staff writers on the legendary fanzine, Japanese Giants, and went on studying and writing about his work for such magazines as Cult Movies, Fantastic Filmsand especially G-Fan.  
Mushroom Clouds…starts with a short but detailed biography of the Japanese director and is followed by a meticulous analysis of his filmography. Despite the huge amount of research he must have put into this book, Brothers' approach is far from academic. He is a fan at heart; someone who for 30 years has written for fanzines, and it shows in his enthusiastic "ziney" style, which at times can be a little repetitive. Also, after having problems finding a mainstream publisher, Brothers decided to do everything himself and self-publish the book. As a result, there are some spelling mistakes and redundancies, and in general the text needs better editing. These minor problems notwithstanding, this is a must for Honda fans and lovers of fantasy films. There is a great deal of information never before seen in English book form, a good deal of which was translated from Japanese-language sources. Most of all, far from being a dry list of names and facts, this book is the story of a humble and soft-spoken man, a dedicated craftsman who during a remarkable 60-plus year career created some of the most amazing "beautiful nightmares" people worldwide have had the pleasure to watch on screen.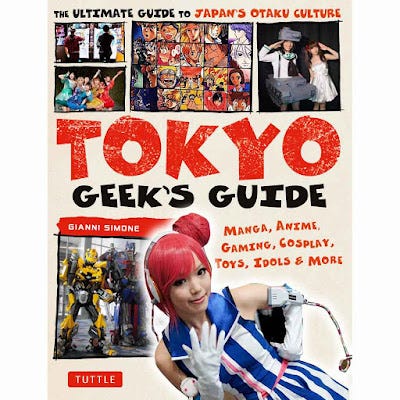 And don't forget my book!
https://www.amazon.com/Tokyo-Geeks-Guide-Cosplay-Ultimate/dp/4805313854/ref=pd_rhf_ee_p_img_1?_encoding=UTF8&psc=1&refRID=TZ2S8Q05S1N9J6NWC116